http://www.rahul.net/dold/
Photos from Mongolia - Close of Service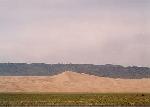 1225-1.jpg Sweeping view from greening steppes, through dunes, to mountains, and up to the sky.
1225-10.jpg Camel close up with view of T nose steering wheel.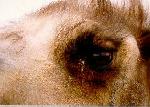 1225-11.jpg Camel goo goo eyes.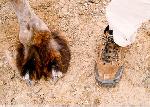 1225-12.jpg Camel toe. In perspective with Kerry's foot.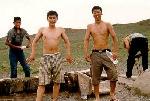 1225-13.jpg Surleg and Khadaa doing strong man impersonations at a well with Amraa and driver butt in background.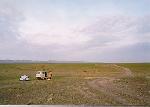 1225-14.jpg Campsite during a countryside trip.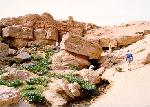 1225-15.jpg Our group climbing around the medicinal spring.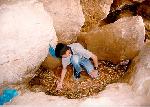 1225-16.jpg Amraa taking water from a point where the spring comes up from the rocks.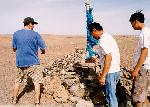 1225-17.jpg Offerings at an ovoo. Surleg is tossing rice to the gods.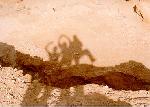 1225-18.jpg Amraa, Kerry, and I at Bayanzag.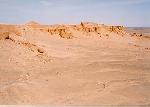 1225-19.jpg Bayanzag.
1225-2.jpg Camel from rider's viewpoint.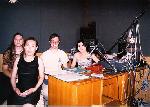 1225-21.jpg English radio show with Jessica, Otgoo, Pat, and Inkhtsetseg the DJ in the new radio station.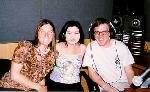 1225-22.jpg English radio show with the Americans and DJ.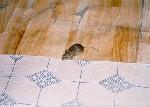 1225-24.jpg Far too brazen mouse in my ger.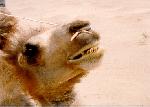 1225-3.jpg Camel resisting stopping. Only one lead line is used to steer.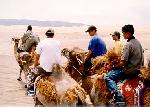 1225-4.jpg Our camel caravan with guide, Khadaa, Sugee, Kerry, and Amraa.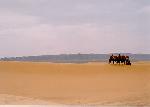 1225-5.jpg Our faithful guide holding our camels as we ran off into the dunes.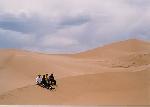 1225-6.jpg Taking a moment on the crest of a dune.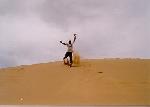 1225-7.jpg Khadaa taking the best way down a dune.

1225-9.jpg A group shot of our camel caravan.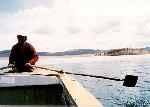 1226-1.jpg Being rowed out on Khuvsgul lake toward the remaining ice sheet.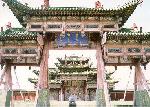 1226-10.jpg Bogd Khaan's Winter Palace Museum gates.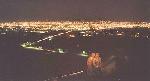 1226-13.jpg Night view of Ulaanbaatar from Zaison(aka the outside bar) with Monkhlei and Zulaa.

1226-14.jpg Monkhlei, Zulaa, Kerry, Batbuyan, and Jessica at Zaison with weeping Mongolian mosaic in the background.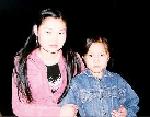 1226-15.jpg Monkhlei's cousins.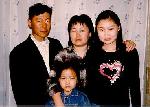 1226-16.jpg Monkhlei's cousins and my hosts for a crash pad.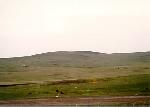 1226-18.jpg Countryside view of one of our many vodka stops.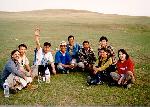 1226-19.jpg Group shot of people Kerry and I shared a van to Omnogovi with at one of our many vodka stops.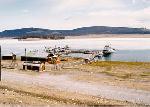 1226-2.jpg Khuvsgul lake's Khatgal port with ice sheet.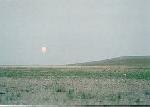 1226-20.jpg Beautiful full moon when it still wasn't getting dark till after 10, but shaky because I was afraid of a nearby dog.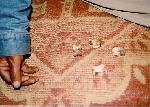 1226-21.jpg Fortune telling knuckle bone game.

1226-22.jpg Kerry finally shaving using a compass mirror in my ger.

1226-23.jpg My beloved dog Khen Be.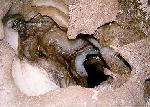 1226-24.jpg Ice bowels at Yolyn Am.

1226-25.jpg Amraa in an ice cavern cut by the stream at Yolyn Am.
1226-3.jpg Ovoo overlooking Khatgal sum, decorated with revered horse heads.

1226-4.jpg The honoring of a beloved horse by placing their head at a high place.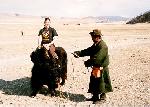 1226-5.jpg My frightening fulfillment of a promise to my father that I would ride a yak. This was along the roadside in Khuvsgul.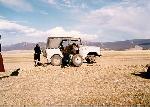 1226-7.jpg One of the many delays on the 2 hour ride that became 6.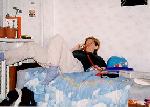 1226-9.jpg Becky speaking special English on the phone.

becky1.jpg Tumour akh and his sister Enkhtsetseg.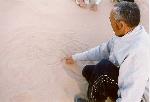 becky2.jpg Tumour drawing a camel.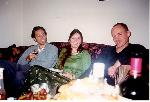 chris1.jpg My first Tsaagan Sar. Celebrated in the States with Mongolian RPCV Chris and his South American RPCV friend.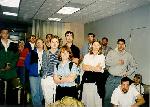 cntdwnclndr1.jpg Our M11 group at the SF airport on our way to Mongolia.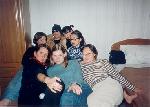 cntdwnclndr10.jpg Pimp Daddy Ryan with his fly girls Cindy, Linda, Laura, Rebecca D., girl Chris, and Leanne.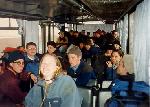 cntdwnclndr11.jpg Get onto the busÓ for some sort of seminar-similar to Beelzebub.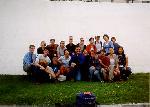 cntdwnclndr12.jpg M11s welcoming M12s at the airport in UB.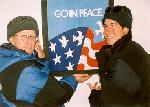 cntdwnclndr13.jpg Greg and Matt at the PC office.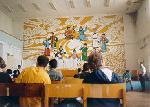 cntdwnclndr2.jpg The large room we sat in for classes during PST.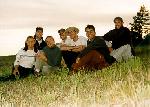 cntdwnclndr3.jpg Hike during PST. Melody, Jay, Ramsey, Pat, Mike Maaaajor, DEAn, and Ranger Bob.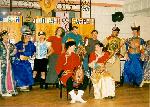 cntdwnclndr4.jpg Alphabet party to celebrate (some of us) learning Mongolian during PST. This was one of the traditional music/dance performances. ßTeacher, Pat, Cindy, Leanne, Bob, Jay, Mike Kin, Sarah W., Rebecca, and Matt E. on moirn Khuur.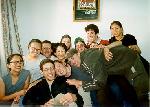 cntdwnclndr5.jpg Random need for a group shot for the countdown calendar in the PC lounge-back in the good old days when the VCR worked. Linda, Laura, Peter, Cindy, Jessica(me), Pat, Matt, Ariel(a lil bit of him), My, front: Matt Brophy, Aleana, and Jay(a lot of him).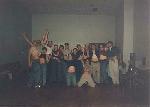 cntdwnclndr6.jpg Belly shot at the PDM 4/2001.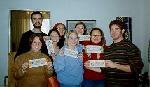 cntdwnclndr7.jpg Art by Linda ˘If it made sense it wouldn't be Peace Corps Mongolia÷.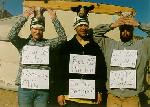 cntdwnclndr8.jpg the Diekempers with site mate Jay in the middle making a poetic statement with props. ߢHear no mutton, see no mutton, eat no mutton.÷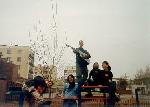 cntdwnclndr9.jpg Sustainable Development's Jeff and boy Chris with groupies. (`original' groupie Melody not present)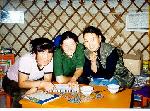 karen1.jpg English lesson at German camp with the cook and Zulaa.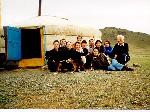 karen2.jpg German's camp with visitors.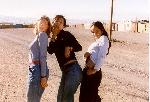 melody1.jpg Outward bound m11 travelers Becky, Mindy, and Melody sending off with a sexy pose in the desert.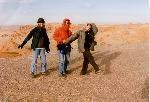 melody2.jpg Becky, Mindy, and Melody at the windy Bayanzag.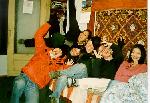 melody3.jpg Crazed from being in the desert the we all invade Pat's house as his girlfriend looks on.

melody4.jpg Melody and Jessica (me) saying goodbye to a foxy passenger departing.
<![if !supportEmptyParas]> <![endif]>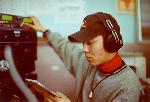 pat1.jpg Jangar DJ-ing at the Gobi Wave FM

pat2.jpg Pissy me waiting with Khishgee at the airport in the COLD.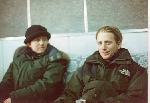 pat3.jpg Still pissy me with Tom still waiting at the airport.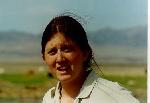 pat4.jpg Pat got overexcited with picture taking at the garden in Khurmen sum.

pat5.jpg Oko and I listening to Akhuu explain Mongoled gardening.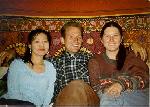 pat6.jpg Tom with his girls, Oko and I.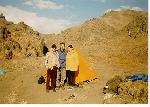 surleg1.jpg My friend Surleg camping with his parents, Batbold and Tsendsuren in the Govi.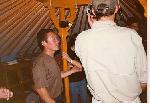 unknown1.jpg Bilgee the carver at a geeeer par-dee at Eva's with Bob attending to the disco ball.

unknown2.jpg Ramsey and I next to the commonly broken beds in the Medical Dorms in UB during the last week of PST.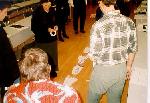 unknown3.jpg The ˘steps÷ to making a good decision at the PDM.

unknown4.jpg A store bought photo of the Naadam? Celebration parade where they dress in traditional costume and carry the banner of peace.
Tue Jul 9 14:57:07 2002